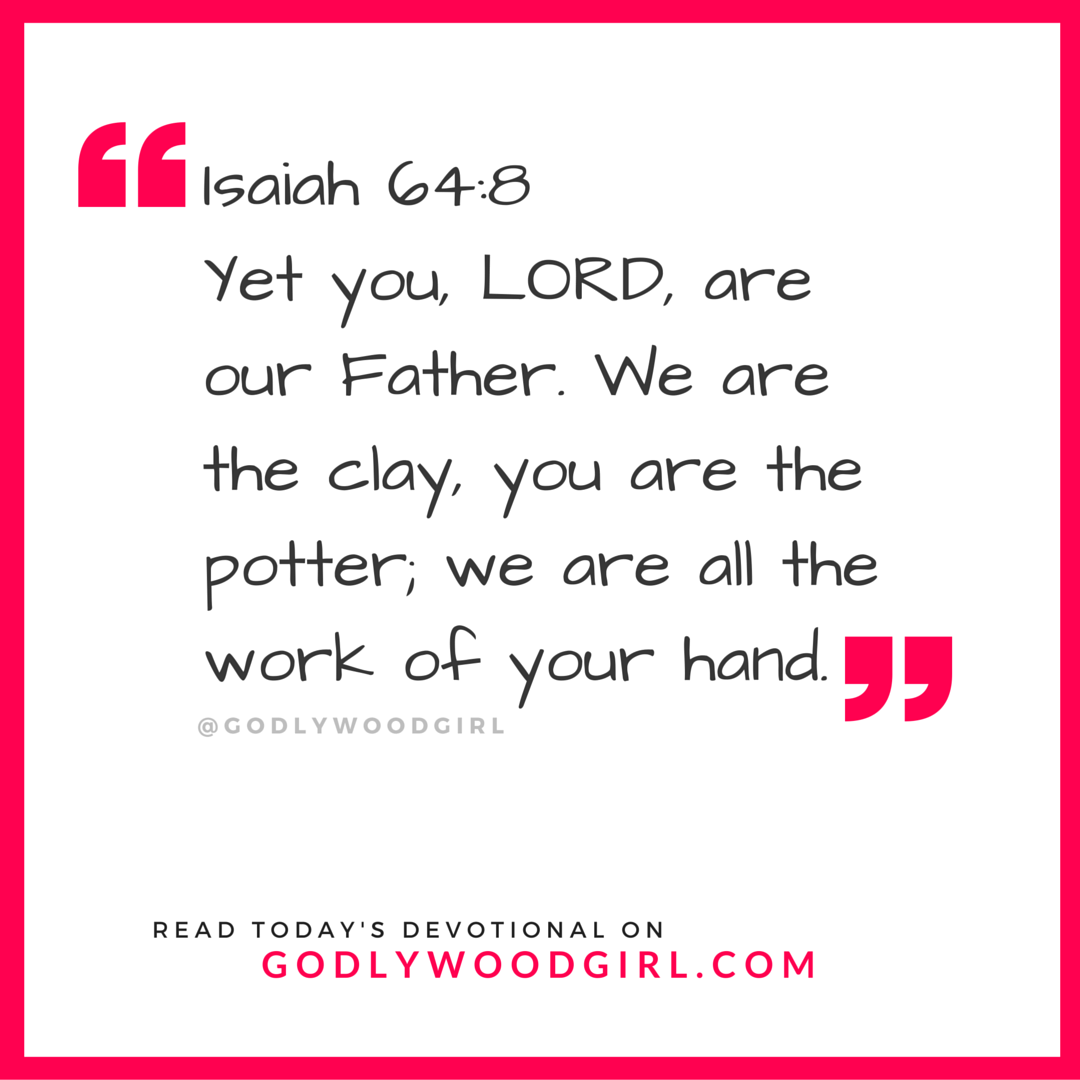 Today's Daily Devotional for Women - You are the work of God's hand.
Bible Verse of the Day
Isaiah 64:8 Yet you, LORD, are our Father. We are the clay, you are the potter; we are all the work of your hand.
Excerpt
When we step into the road not taken, it's human nature to have nagging doubts whispering into our mind that we don't have what it takes. That we're not good enough or talented enough or smart enough to navigate that unknown road to right destination.
Everyone gets those doubts. But what separates the doers from the seekers is that those who "do" understand one thing – We are the clay, shaped by our heavenly Father into a beautiful masterpiece perfectly equipped to fulfill our legend in Christ.
You are the work of God's hand, magnificently sculpted to be everything God created you to be. So what if you don't have the education or the experience or the skill set you think is necessary to achieve your dreams?
Trust that Our Heavenly Father, the potter who shaped you into existence, knows EXACTLY what He's doing and will provide you with everything you need to take the next step.
Prayer
Dear Jesus,
Thank You for shaping me into the sculpture You created me to be. I have faith that You've equipped me with everything I need to get on my journey to success.
In Jesus' Name I pray,
A-men.
Want to receive these daily devotionals for women right to your inbox each morning? Enter your best email address in the box below so you can get your daily dose of inspiration.

Ready To Live Your Purpose?
Ready To Activate God's Greatest Purpose For Your Life With My Free 5-Day Challenge? Sign up to receive my FREE 5-Day Activate Your Purpose challenge that empowers you to:
Find God's purpose for your life
Believe your purpose is possible
Take action on your purpose EVERY single day!
Lovely, I believe that as daughters of a Risen King, every woman – no matter what her age, race, creed or culture – has a RIGHT to live her purpose in Christ! Grab your free challenge now at https://purposelegend.com