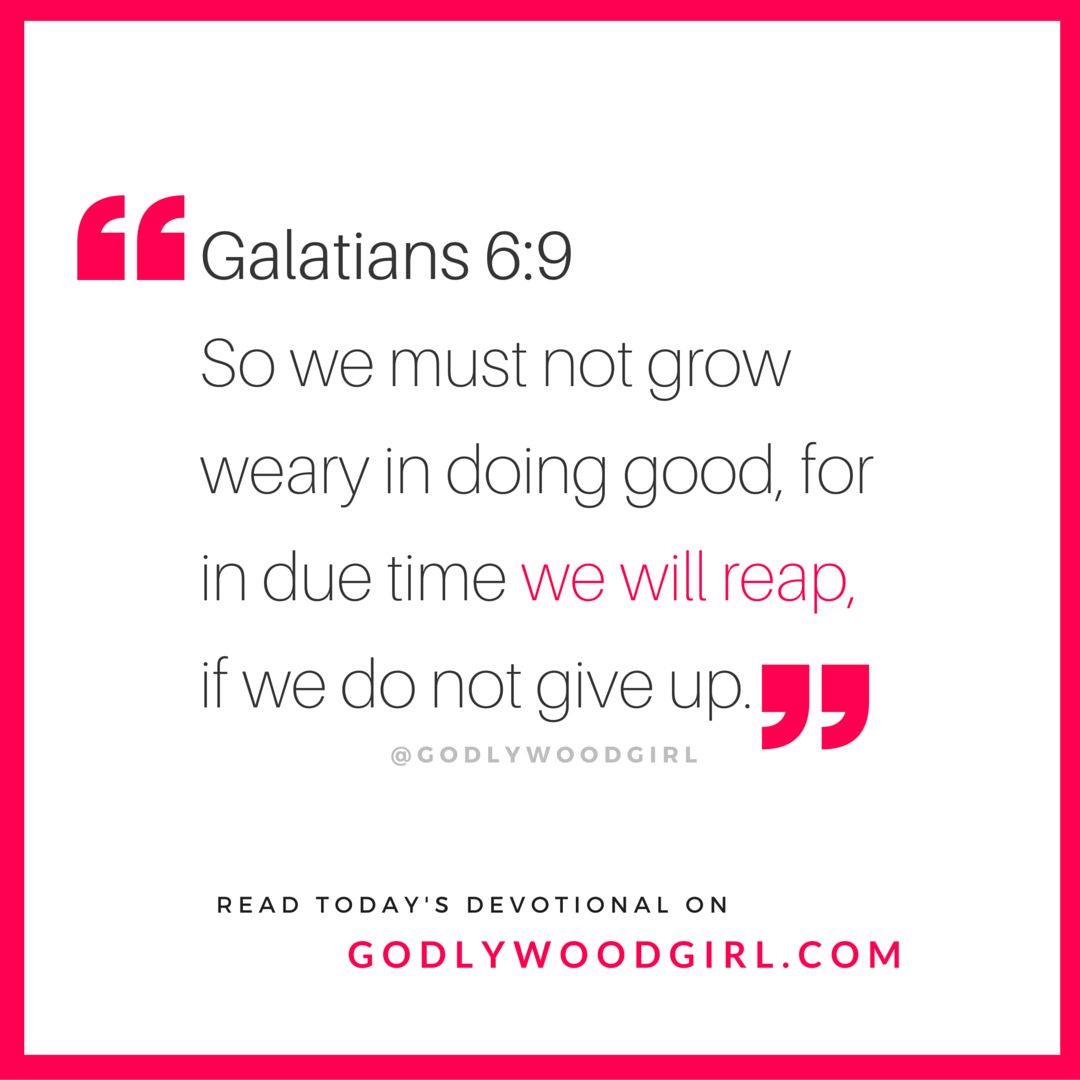 Today's Daily Devotional for Women - Don't Grow Weary of Doing Good
Bible Verse of the Day
Galatians 6:9 So we must not grow weary in doing good, for in due time we will reap, if we do not give up.
Excerpt
This weekend my goal was to finish the next book God allowed me to write.  The stage was set for everything to get done. My boss let us out of work early on Friday, I had my schedule clear for Saturday morning and all of Sunday, and I had everything I needed to get the job done.
But the job didn't get done.
My husband and I ended up taking advantage of the extra time on Friday and went to the beach. Then on Saturday a training for church came up that I just couldn't miss out on - so I went to that instead of finishing my book. Then on Sunday a guest from out of town was over and I couldn't be rude and just work on the book.
So by the time Sunday evening hit, I knew I wasn't going to finish.  And I'm not going to lie - I felt REALLY disappointed with myself. 
I was disappointed because I felt I made all the wrong decisions over the weekend. I was disappointed because I felt I let God down by not finishing on time. I was disappointed because a goal I'd had for SO LONG has now been prolonged yet another week.
And all that disappointment led me to one thought: "This is just too difficult. I'm never going to finish this. I might as well move on to something that's easier."
When that thought came into my head, I thought of Galatians 6:9 and all the people I know who gave up on their dream because it became too hard.
And that's when I realized it doesn't matter that I didn't get my goal finished on MY timetable. God has a bigger picture in store for me. And if only I don't give up, this book WILL get done.  
Who cares if it takes longer than I expected?  If I just don't give up on this dream God has given me, I will REAP a reward.
Today, push aside any disappointments or frustrations you have because  your dream still hasn't come to pass.  If you don't give up, God promises that in due time you will reap a reward from all the hard work you've sown.
Make the decision to keep moving forward no matter how difficult the task seems.  I promise you - if only you don't give up, you WILL succeed.
Want to get an inspirational devotional delivered right to your inbox each week? Enter your best email address in the box below to start getting inspired now.

Ready To Live Your Purpose?
Ready To Activate God's Greatest Purpose For Your Life With My Free 5-Day Challenge? Sign up to receive my FREE 5-Day Activate Your Purpose challenge that empowers you to:
Find God's purpose for your life
Believe your purpose is possible
Take action on your purpose EVERY single day!
Lovely, I believe that as daughters of a Risen King, every woman – no matter what her age, race, creed or culture – has a RIGHT to live her purpose in Christ! Grab your free challenge now at https://purposelegend.com