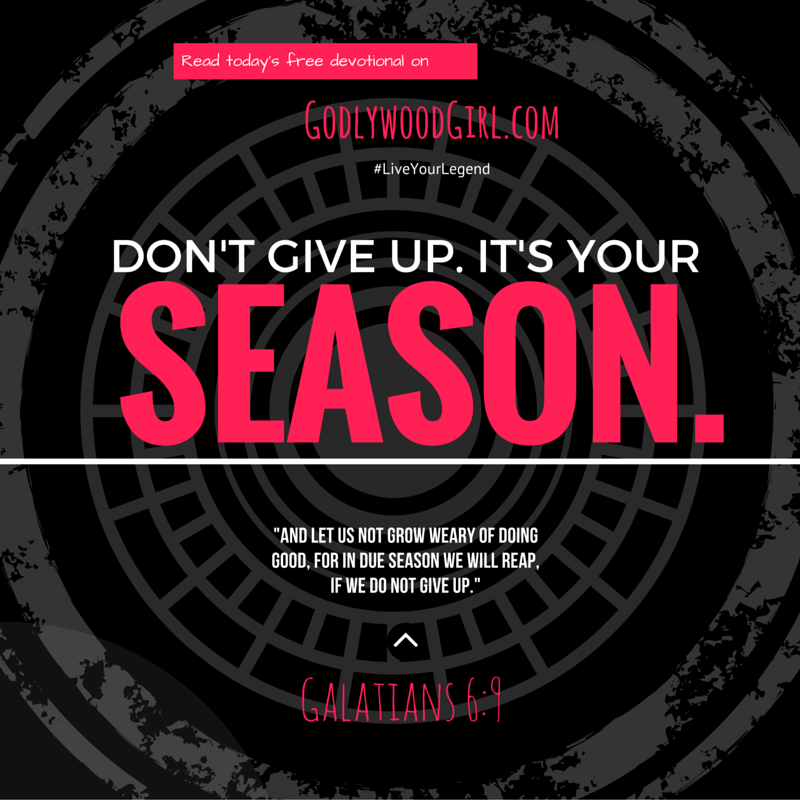 Today's Daily Devotional for Women - Do Not Quit
Bible Verse of the Day
Galatians 6:9 – And let us not grow weary of doing good, for in due season we will reap, if we do not give up.
Excerpt
It's absolutely possible for you to live your dream. You just have to work through the urge to quit. Failure is something all of us experience. Hardship is an unavoidable part of the struggle. But God promises in Galatians 6:9 that if you endure through the struggle, if you choose to keep taking one more step, if you fight through it and keep pushing and refuse to give up, your season will come.
Today it's time to decide that quitting is not an option. Failure is okay, because that's just an opportunity to stop wasting time on a strategy that didn't work. Falling is okay, because that's just an opportunity to stand up taller. Taking a break is okay, because that's just an opportunity to re-evaluate and find a new door to break through. But quitting is not okay. Stopping is no longer part of your vocabulary.
You are a creator, a visionary, and you are personally responsible for whether or not you will reap the harvest God has in store for you.  So today make the decision to not quit.
Prayer
Dear Jesus,
I thank You for your promise in Galatians 6:9. I won't give up on Your promise for my life. I won't give up on who You designed me to be. I am worthy of everything You made me capable to be. And today, I choose to keep rising.
In Jesus' Name I pray,
A-men.
Want to receive these daily devotionals for women right to your inbox each morning? Enter your best email address in the box below so you can get your daily dose of inspiration.

Ready To Live Your Purpose?
Ready To Activate God's Greatest Purpose For Your Life With My Free 5-Day Challenge? Sign up to receive my FREE 5-Day Activate Your Purpose challenge that empowers you to:
Find God's purpose for your life
Believe your purpose is possible
Take action on your purpose EVERY single day!
Lovely, I believe that as daughters of a Risen King, every woman – no matter what her age, race, creed or culture – has a RIGHT to live her purpose in Christ! Grab your free challenge now at https://purposelegend.com