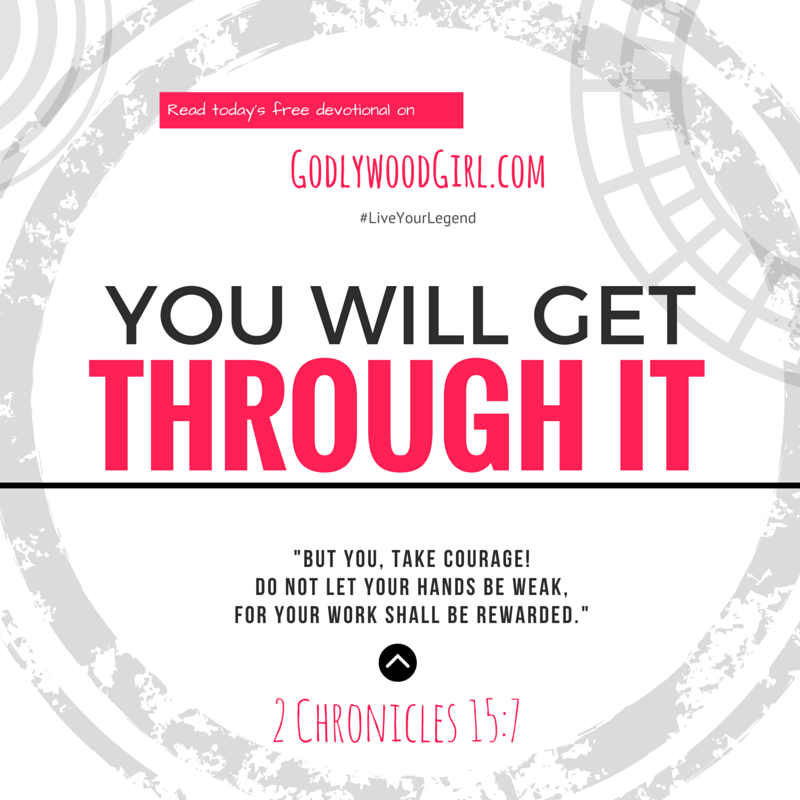 Today's Daily Devotional for Women - You are made to work through it!
Bible Verse of the Day
2 Chronicles 15:7 – But you, take courage! Do not let your hands be weak, for your work shall be rewarded.
Excerpt
You are one of a kind. Your talent has been given to you and only you. You are unique, extraordinary, perfectly designed by God to achieve the success He has in store for you.
But you can't choose what happens to you. The challenges, hardships, trials and tribulations that come your way are not by your choice. What is your choice is deciding how you react to them. You can choose to let the struggle weaken you. You can choose to let the fear take over you.
Or you can decide to have courage, to be strong, to use that struggle as motivation to rise rather than pressure to fall. And if you make the choice to keep going, your work will be rewarded.
You will reach success.
You will make it happen.
If only you don't give up.
Prayer
Dear Jesus,
I believe I will be successful. I believe one day I will see the reward You have in store for me. Today I choose to take courage, to be strengthened by Your grace, to keep moving towards the legend You created for me. Thank You for creating me.
In Jesus' Name I pray,
A-men.

Want to receive these daily devotionals for women right to your inbox each morning? Enter your best email address in the box below so you can get your daily dose of inspiration.

Ready To Live Your Purpose?
Ready To Activate God's Greatest Purpose For Your Life With My Free 5-Day Challenge? Sign up to receive my FREE 5-Day Activate Your Purpose challenge that empowers you to:
Find God's purpose for your life
Believe your purpose is possible
Take action on your purpose EVERY single day!
Lovely, I believe that as daughters of a Risen King, every woman – no matter what her age, race, creed or culture – has a RIGHT to live her purpose in Christ! Grab your free challenge now at https://purposelegend.com