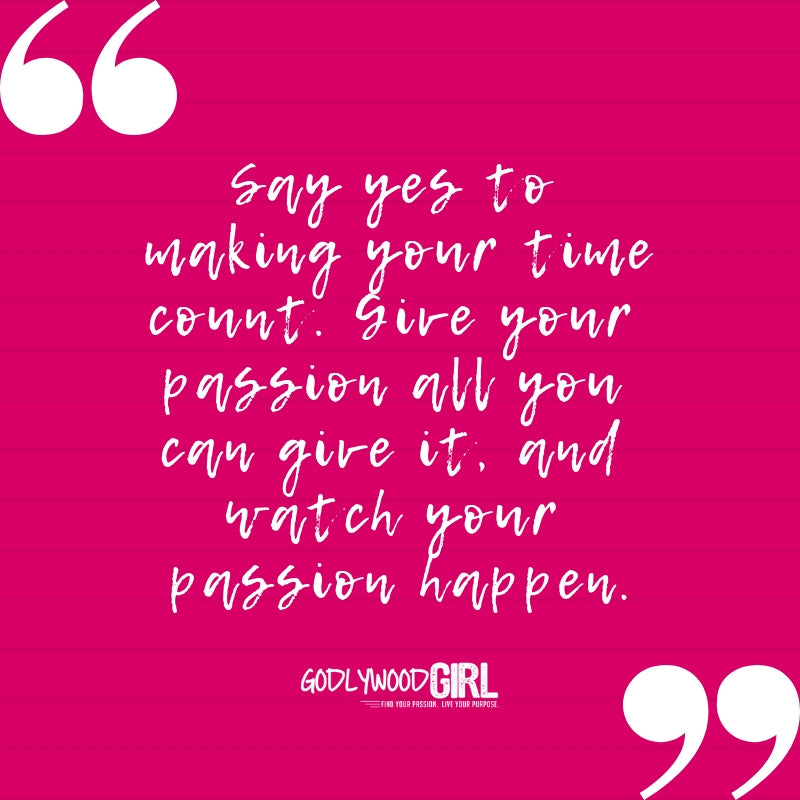 Today's Daily Devotional For Women – Make the best use of your time.
Your time is valuable. It's one of the only things in this world you can only spend once.  So make sure you spend it right the first time. Check out today's devotional on GodlywoodGirl.com to find out how to spend time doing the things you're made to do.
Bible Verse of the Day
Ephesians 5:15-16 So, then, be careful how you live. Do not be unwise but wise, making the best use of your time because the times are evil.
Today's Daily Devotional for Women
When you are not pursuing your goal you are sacrificing the best use of yourself to becoming the best you can be.  Your time is valuable. It's priceless. It's one of the only things in this world that you can never get back after you've spent it.
What are you spending your time on? What is taking up the majority of your day? God gives you 24 hours each day. What are you doing with it?
The wise daughter carefully designates her time to the activities that give her life value.  The wise daughter makes the sacrifice and gives up the things she wants to do in order to do the things she's made to do.
Distractions are only distractions if you let them be.  And even if it's tempting, you have to harness your will and declare you will use the seconds of your day critically to step into your legend.
You must take advantage of your passion right now. In order for your passion to happen you must give up your time for it, work day and night for it, and dedicate yourself to living your legend.
Say yes to making your time count. Give your passion all you can give it, and watch your passion happen. 
Prayer:
Dear Jesus,
Thank You for creating me with purpose. I pray for the wisdom to designate my time to those activities that bring me closer to the path You created me to walk.
In Jesus' Name I Pray,
A-men.

Ready To Live Your Purpose?
Ready To Activate God's Greatest Purpose For Your Life With My Free 5-Day Challenge? Sign up to receive my FREE 5-Day Activate Your Purpose challenge that empowers you to:
Find God's purpose for your life
Believe your purpose is possible
Take action on your purpose EVERY single day!
Lovely, I believe that as daughters of a Risen King, every woman – no matter what her age, race, creed or culture – has a RIGHT to live her purpose in Christ! Grab your free challenge now at https://purposelegend.com