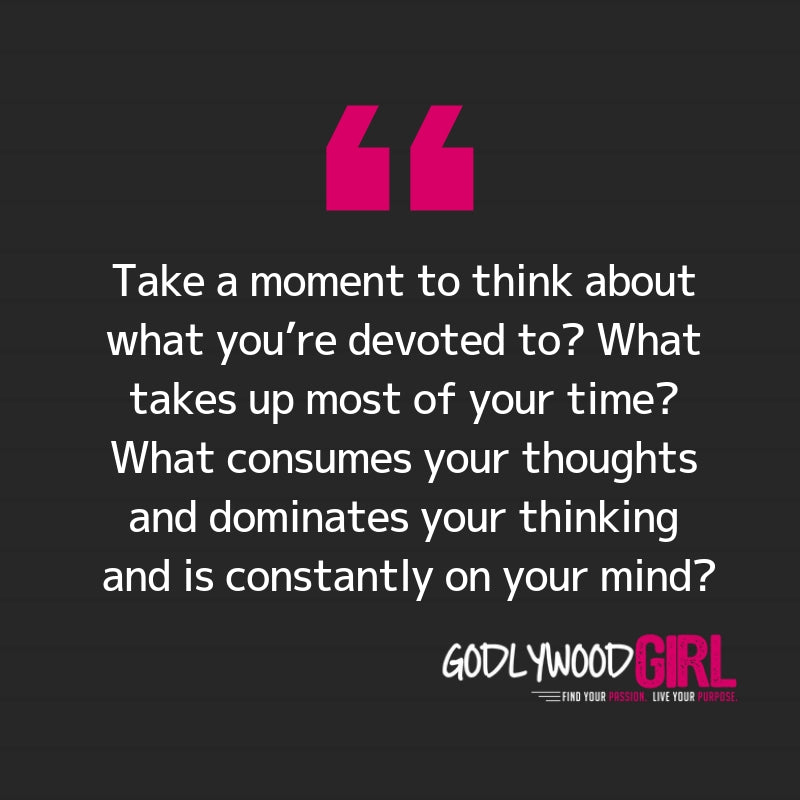 Today's Daily Devotional For Women – Set Your Mind On Things Above
It's time to rise above the worries and disappointments and pain of this life and step into the greatness God intended you to be. Check out today's devotional on GodlywoodGirl.com to find out how.
Bible Verse of the Day
Colossians 3:1-2 If ye then be risen with Christ, seek those things which are above, where Christ sitteth on the right hand of God. Set your affection on things above, not on things on the earth.
Today's Daily Devotional for Women
The definition of "affection" is "fond attachment, devotion or love."
Take a moment to think about what you're devoted to? What takes up most of your time? What consumes your thoughts and dominates your thinking and is constantly on your mind?
That is where you'll find where your affections lie.  And if those affections are dominated by anything other than becoming exactly what God created you to be, it's time to rethink your thinking.
Many of us do not follow Colossians 3:1 – 2 and allow our thoughts to be dominated by what could go wrong. We allow ourselves to be distracted by the worries and disappointments and pain of this life.
But it's time to rise above that. It's time to step into the greatness God intended you to be and set your devotion to being your best self.
Every time a distracting worry comes into your mind make the conscious decision to ignore it, reframe your focus and instead think about the next step you must take to living your passion.
Do not let distractions get in the way of your blessing. There is still time for you to reach success. There is still time to get on your journey to your passion. As long as there is breath in your nostrils it is never too late to get rid of the distractions and step into your legend.
It's yours.
Prayer:
Dear Jesus,
Thank You for creating me to think of things above. I pray for the strength to stay devoted to Your light and Your purpose for my life. Help me to cast out the worries and disappointments that distract me. I want to stay focused on You.
In Jesus' Name I Pray,
A-men.

Ready To Live Your Purpose?
Ready To Activate God's Greatest Purpose For Your Life With My Free 5-Day Challenge? Sign up to receive my FREE 5-Day Activate Your Purpose challenge that empowers you to:
Find God's purpose for your life
Believe your purpose is possible
Take action on your purpose EVERY single day!
Lovely, I believe that as daughters of a Risen King, every woman – no matter what her age, race, creed or culture – has a RIGHT to live her purpose in Christ! Grab your free challenge now at https://purposelegend.com