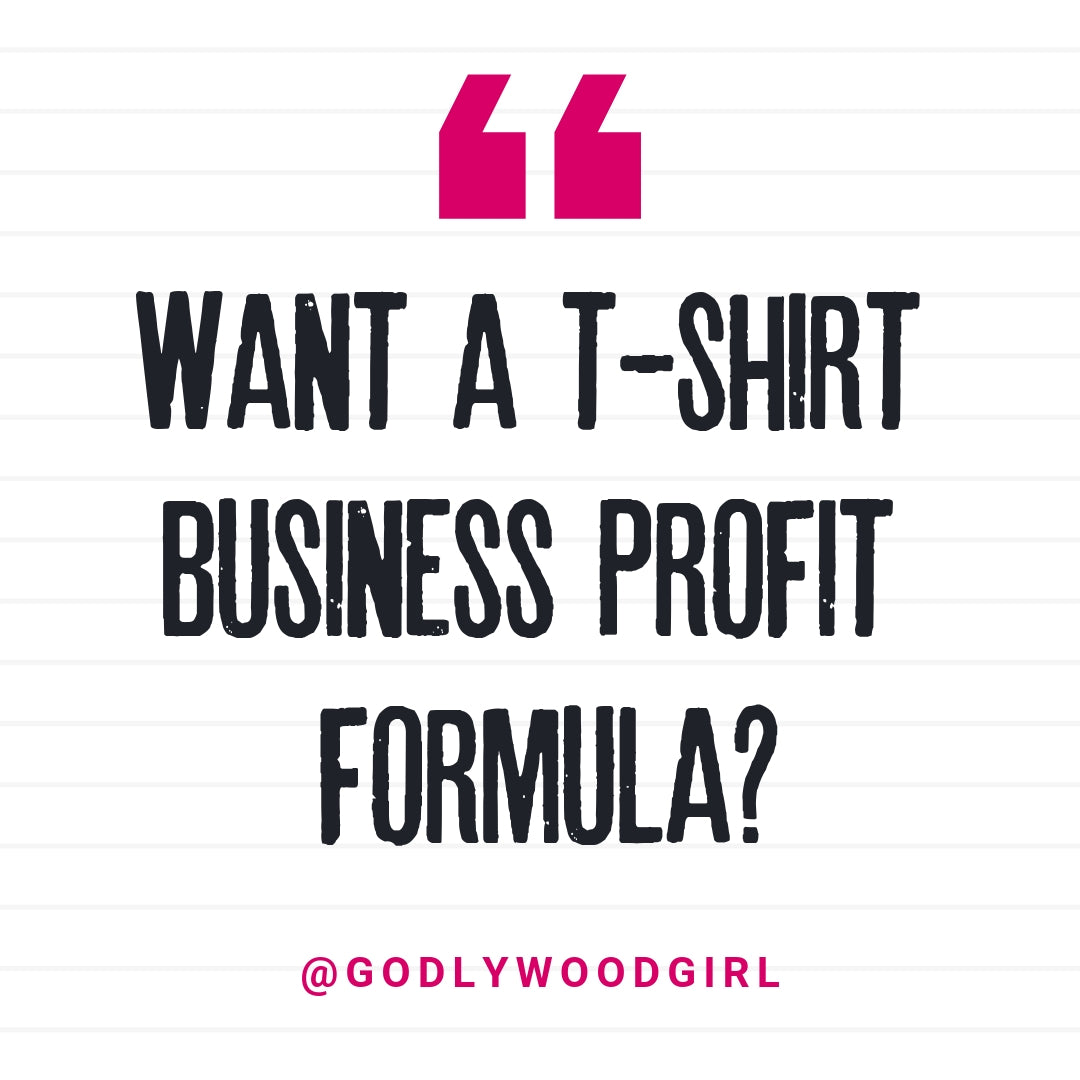 TSHIRT BUSINESS PROFIT || (Creating A Clothing Line, T-Shirts To Sell For Profit, T-Shirt Business)
Click here to grab my "Launch Your T-Shirt Business" Masterclass
T-Shirt Business Profit || (Creating A Clothing Line, T-Shirts To Sell For Profit, T-Shirt Business)
Want to learn about tshirt business profit? If you want to know how to start a tshirt business at home and need an amazing tshirt business profit formula to help you do it, this article will show you my tshirt business profit formula that I use whenever I start a new tshirt business online. You'll know how to start a tshirt business online, and all the best tips for launching a Christian tshirts business so you can start selling shirts online.
written by
Stephanie Rodnez, Author, Filmmaker & Purposeologist
Hey sis,
It's Stephanie Rodnez here, founder and CEO of Godlywood Girl and creator of the Godlywood Girl School Of Business, and if you want a t-shirt business profit formula that shows you how to price your own t-shirts for your own t-shirt business just like Godlywood Girls, then watch this video, stay to the end, because by the end of it you are going to have my t-shirt business profit formulas to know exactly how to price your shirts.
I'm super excited to bring you part three of my 4-Part "Launch Your T-Shirt Business Series." If you missed blog post number #1 about the launch your t-shirt business plan PDF, you can read that article here. 
This article is all about my "tshirt business profit" formula and I'm really excited to share this formula with you because it's going to show you step-by-step how to price your very own Christian t-shirt business online.
Step #1 - Understand What Profit Actually Is
To learn about the t-shirt business profit formula, first we have to start off by understanding what profit actually is. When I got my MBA, the first thing they teach you is that profit is income minus expenses. But here's the thing, most of us when we're thinking about income and expenses, we only think about inventory. "This t-shirt cost me $19 to print and I sell it for $29 so my profit is 10 bucks."
But that's actually not accurate. Profit has to include the cost of everything that goes into you maintaining your t-shirt business including the cost of your website, marketing, promotion fees, the cost of labor, the cost of printing and shipping, the cost you pay yourself, and on and on and on. We have to make sure we understand that profit is not just income minus expenses, profit is in step number two.
Step #2 - What Is Your Gross Profit?
The second thing we need to understand about t-shirt business profit is that we are looking for gross profit. We need to understand everything that goes into the cost of our shirt.
Sit down and ask yourself:
how much does it cost me to buy this shirt?
how much does it cost me for the ink?
how much does it cost me to ship this shirt?
how much does it cost me to manufacture it?
how much does it cost me to list the t-shirt on my website, including website maintenance fees, domain name maintenance fees, etc.
how much does it cost me in marketing and promotions?
how much does it cost me to pay myself to promote the shirt?
to get on customer service calls?
to send out those emails promoting my shirts?
You have to figure out all those different costs, which make up something called cost of goods sold (you'll see this on a financial statement written as COGS).  Your gross margin is your income minus your entire cost of goods sold. For example, if I go through all my expenses and I realize that my cost of goods sold for selling one Godlywood Girl t-shirt is $19 per shirt, and I sell the shirt for $29 online, then my profit is $10.
After we know these numbers, now we can figure out what we're going to price our shirt at.
Step
 

#3 - What Is Your Gross Profit Margin?

To figure out the price of our shirt, we start out by understanding what we want our gross profit margin to be. Gross profit margin refers to the percentage of the money you keep after your shirt is sold. If my gross profit margin is 10%, then that means I keep 10% of the $29 that I sold my shirt at.

And if you're doing the math in your head, yup, 10% GPM for a $29 shirt means you're only making $2.19 profit, which is terrible lol.  It's very hard to run a business with such low margins, and that's why you've got to know what margin you want to have in your business before you price your shirts.

The amount of profit margin your company should have varies in the industry so I'm not going to sit here and pretend to tell you I know what your profit margin in your business should be. Do your research, find out what the standard GPM is for your industry and go from there. 

At Godlywood Girl, I like to have a 50% profit margin, which means I keep 50% of the revenue I make from each item I sell. The formula for Gross Profit Margin is (Revenue - COGS) / Revenue.

So let's take the numbers I used in step two. Gross profit margin equals revenue, ($29_ minus cost of goods sold ($19)  divided by revenue ($29), so $10 divided by 29 equals a gross profit margin of 34%.

Since my goal is 50%, I either need to reduce my COGS or increase my Revenue in order to reach my desired gross profit margin.  The easy way to reach my number is just to divide my COGS by my desired profit margin, and list my t-shirts at that price.

So if my COGS is $19 per shirt, and I want a 50% margin, then I caculate 19 / 50% (.5) in order to get a retail price of $38.

See how that works?

If your COGS is $49 per bag, and you want a 70% profit margin, then you caculate your retail price by diving $49/.7 = $70.  So you should sell your bag for $70.

Now go ahead and try this formula out on your own product.
The Next Step
Now I hope you enjoyed that step-by-step demonstration of my t-shirt business profit formula. But let me ask you, do you dream of launching your own t-shirt business the way that God purposed you to do it, but you're not sure where to start?
Sis, I completely understand. When I first wanted to launch my own t-shirt business, I actually went to local printers in my area that was so expensive, it almost made me quit on my dream of having a t-shirt line.
I decided maybe I'll try printing my own shirts, but let me tell you, having all of that equipment piled up in your house is awful.
So I did research online and I found out about Print on Demand services, and I realized there's literally a way to be able to print shirts only when someone buys a shirt from you.  There's no inventory, there's no shipping, there's no printing on my part. All I need to do was design, set up and market my shirts, and the print on demand service took care of the rest.
If you want to do the same thing, I have a brand-new masterclass called the Launch Your T-Shirt Business Masterclass where I walk you step-by-step through launching your very own t-shirt business the way that God purposed you to do it. You can learn more about the masterclass by clicking here.
Want to learn how to start a purpose-driven business online?
Sister of Christ, if you're ready to get unstuck, stop feeling frustrated and learn the 5 fundamental principals of having an online business that glorifies Christ and gives you the lifestyle you want -
Then grab my
FREE 5 Ps Of Purposepreneurship eBook
 where I'll show you how to start a purpose-driven business online step-by-step!  You can grab it now at
https://purposelegend.com/business
Thanks so much for reading, and Jesus willing I'll see you in the next article.
xox,
Stephanie (Godlywood Girl) Rodnez
________________
ABOUT GODLYWOOD GIRL
Welcome to Godlywood Girl sis! My name is Stephanie Rodnez, Founder & CEO of GodlywoodGirl.com, and my purpose in life is to help you find yours.
A few years ago I made a terrible business decision that almost brought me to bankruptcy. The fear, self-doubt and lack of confidence I went through as a result of that poor decision kept me from living my purpose for 2 long years -
Until one day I saw a video by ET Thomas that literally changed my life. His "You Owe You" reawakened my purpose, and from that moment on, I knew I wanted to help other women reawaken their purpose too.
That's why I created Godlywood Girl, a motivational resource company designed to help women of Christ get unstuck, stop feeling frustrated and start living God's greatest purpose for their lives - just like Dr. Eric Thomas' video did for me.
My greatest desire is to empower at least 5 million women of Christ to find their God-given purpose, starting with YOU. Click below so I can send you a free copy of my Find Your Purpose Journal today ➡️➡️➡️ http://purposegift.com
________________
RESOURCES:
➡️ Get my brand new, FREE Find Your Purpose Toolkit here || http://purposegift.com
➡️ Get your free 5-Day Activate Your Purpose Challenge from Stephanie (Godlywood Girl) Rodnez here || https://purposelegend.com
➡️ Get my FREE 5 P's Of Purposepreneurship eBook to start a purpose-driven business online here || https://purposelegend.com/business
➡️Ready to learn how to live your greatest purpose for Christ? Join me in the Godlywood Girl School Of Purpose at || https://godlywoodgirl.teachable.com/p/schoolofpurpose
➡️Ready for some Godlywood Girl Books, T-Shirts & Swag? Check out the entire Godlywood Girl collection at https://godlywoodgirl.com