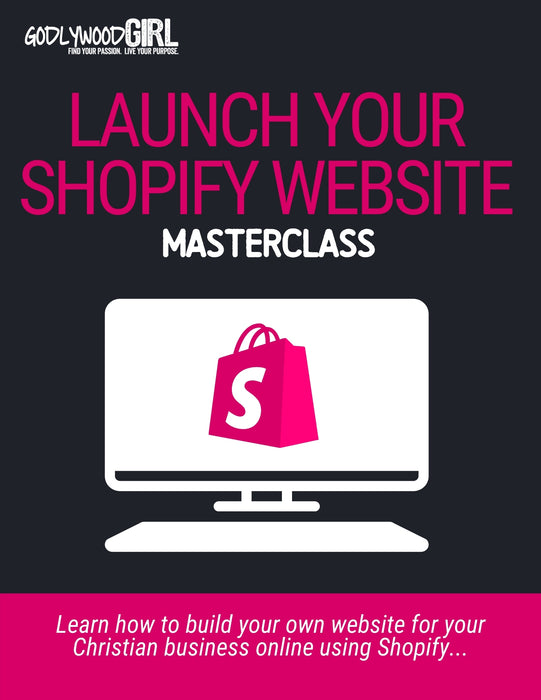 Launch Your Shopify Website Masterclass (Digital Product Only)
Please note this is a digital product fulfilled through godlywoodgirl.teachable.com, so there are no refunds for this order.  Once your order is placed on Shopify, I will send you an email with instructions to access your course within one business day.
Sis, if you told me 3 years ago that I'd be able to launch a Shopify website in under 3 hours... I'd have laughed in your face.

But guess what? All praise to God, I CAN launch a Shopify store in under 3 hours. And I want to show you how to do the exact same thing.

Tell me if this sounds familiar.  

You know God is calling you to entrepreneurship. You keep dreaming about launching your own website. But for some reason... 

It just never gets done.

You struggle with the technology, the expertise, and just plain fear of messing everything up and wasting your time and money.

Don't worry, I used to feel the same way.

When I first started my own business in 2008, I didn't know the first thing about web design. I paid thousands - and I mean THOUSANDS of dollars to hire website designers who never got my site to look and feel the way I wanted it to.

And if I ever had a change to something, I'd have to pay them MORE money, plus wait months and months for them to finally get around to making the change.

I knew there had to be a better way to grow an online business, but I just had no idea what to do.

When a new web designer told me he was going to charge me $500 just to add a blog to my website, that was the final straw. I decided to ask God to show me how I could build a website myself.

First, I tried using WordPress.  I launched my own blog... And it quickly went nowhere. I just couldn't figure out how to sell anything on the site.

Then, I tried Wix. Finally, I was able to figure out how to connect my Paypal account to my website, but the website was just plain ugly. It was sooo difficult to customize it with the branding I knew God wanted me to build.

Finally, I decided to invest in a masterclass that taught me about a new platform called "Shopify." It was supposedly like Wordpress but better, with the ability to easily add products to your blog and customize your theme to make it look the way you wanted.

So I started using Shopify -

And never looked back since.

Using Shopify allowed me to create a website that was fully branded, customizable, product rich - and what's best? I can add and make changes anytime I want - quickly and easily.

Since learning how to use Shopify, I've built 5 stores for other brands as well, including:


https://fequierefitness.com/
https://titanproserv.com/
https://godlywoodgirl.com/


And sis, I want to teach you how to do the EXACT same thing.

And that's why I created the "Launch Your Shopify Store Masterclass," an online class where I'm going to walk you step-by-step through creating your very own Shopify store.

Finally, you'll have your the website you've always wanted.
You'll be able to sell your own products online in a platform that's easy to understand and earn income from.

You're blog will be up and running easily and quickly, and your friends will say how proud they are of you because your company is actually launched! And you'll feel great as a result.


After adding 5 products to one of my client's Shopify store, he sold tickets to his next live event and earned $23,000 in just one weekend using Shopify. 
He said: 

"I want to give a shout out to someone who is serving as the EPITOME of a perfect example of what and how to be an authoritative expert and build her brand.
This girl GETS STUFF DONE. I utilize her skills often for Ask A Millionaire as I trust her and she does amazing work. She puts in the time to learn multiple software platforms. Invested in the learning. Bought programs. Learned. And then learned more. She has mastered what she does and doesn't try and be more than who she already is. Too many try and be something they aren't. Not this girl. She simply has the #mostwontiwill mindset in everything she does,
This girl is:
Stephanie Rodnez
Godlywood Girl.
You go girl!!!!!" 
- Shawn Thomas
 

With the "Launch Your Shopify Store Masterclass," you'll receive lifetime access to my online masterclass where I'll walk you step-by-step through launching your own Shopify store from scratch.   

You'll learn how to choose your theme, how to structure your website, how to write your website copy and even how to add images that are copyright free and cost nothing to use.

I'll even show you how to create your blog AND add your own t-shirt collection to the website - using free resources that Shopify already provides.

You'll watch me demo a website launch step-by-step - AND you'll be able to ask me questions while I do it.



After I launched a website for my client Jadine, she was able to start selling her own online course to those interested in learning how to run a not-for-profit.  After our experience together, she said this:

"Words can't describe how grateful I am for you. I've said this already and I'll say it again. You rock my socks! Thank you for being an answered prayer."

- Jadine Louissaint - https://youniqueacademy.org


So my "Launch Your Shopify Store Masterclass" will show you how to:
Launch a Shopify website from scratch in just 1 day
Write website copy
Find website images that are copyright free and cost nothing to use
Add a blog to your store
Create your own t-shirt collection
And so much more!
Plus you'll get access to the replay, so you'll have it forever.

Masterclasses like these run upwards of $997 on the online marketplace right now.

But I'm not charging $997 for this product. I'm giving you access to this masterclass for just the one-time price of $97.


And as a bonus, you don't just get the "Launch Your Shopify Store Masterclass."   I'll also send you a bonus eBook copy of my book, "How To Make A Sales Funnel That Earns Money While You Sleep," which teaches you the core strategy behind creating a passive income that monetizes your Shopify store on autopilot.


So if you're ready to finally get your website DONE, have your blog up and running and start selling your own products online so you can become the entrepreneur you know God purposed you to be, click the add to cart button to secure your seat.


Remember, there are only a limited amount of spots available - so don't wait too long.


Thank you for your time. Here's to becoming the entrepreneur's God created us to be.


xox,
Stephanie (Godlywood Girl) Rodnez