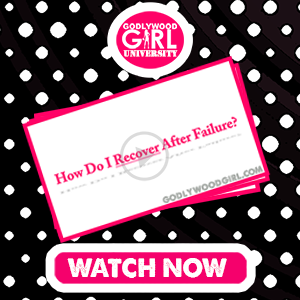 How Do I Recover After Failure?
Learn how to recover after a major life failure so you can achieve your life goals and become the legend God created you to be! If you don't have time to watch the 5 minute video, the transcript is below.  For a daily devotional written for millennial women of faith that will help you identify your passion, define your life purpose and create a strategy to make that purpose happen, check out the Unleash Your Legend daily devotional for women by clicking this link.
How To Recover After Failure
Transcript:
Hello Sister Of Christ! Welcome To Godlywood Girl University, Where In 5 Minutes Or Less We Answer The Questions You Have About Accomplishing Your Goals, Reviving Your Faith, Revitalizing Your Spirit And Unleashing Your Legend In Christ.
In This Webisode We'll Answer The Question: How Do I Recover After Failure?
For Many People, Failure Is When You Put Your Heart And Soul Into A Big Project That Really Meant Something To You...And It Just Didn't Happen. And It's Tough To Recover After A Loss That Painful And Close To Your Heart. So How Do You Recover From It So You Can Get Back To Pursuing Your Dreams? By Doing These Three Steps.
Step #1 – Stop Seeing Your Failure As Failure. You See, Failure Isn't About Falling. Failure Is About Not Getting Up Again. And As Long As You Get Back In The Game And Try Again, You Have Not Failed.
Step #2 – Forgive Yourself. It's Time To Stop Complaining, Stop Blaming Others, Take Responsibility And Cut Yourself Some Slack. Every Single Person Who Has Achieved Success Has At One Point Or Another Fallen Flat On Their Face. It's Normal, It's Predictable.
And It's Fine To Be Proud Of Yourself For Giving It Your Best.   Celebrate The Disappointment, Because You Had The Courage To Dream Big And Go For It – Something Most People In The World Will Never Get The Guts To Do.
Yes, It Would Have Been Amazing If You'd Succeeded The Way You Wanted To, But Realize That Just By Trying, You've Already Accomplished A Goal Most People Will Never Do.
Step #3 – Learn From The Disappointment So You Can Apply The Lessons To The Next Time You Go For It. Think About What Happened And Ask Yourself What You Did That Did Go The Way You Planned. Then Ask Yourself What You Did That Didn't Have The Outcome You Wanted? Finally Ask Yourself What You Could Have Done Differently To Make Those Things Work?
Take Those Lessons, Recommit Yourself To Your Dreams, And Apply Them To The Next Time You Reach For Success.
That's It For This Webisode. If You Have More Tips, Advice Or Questions, Please Leave A Comment Below.